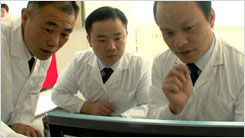 Shenzhen Lanter Electronics Co., Ltd, founded in 2002, is a hi-tech enterprise specializing in portable and compact digital scales design and manufacturing. In 2008, Lanter invested $20 million, in a new 900,000 ft2 (85,000 m2) Science & Technology Park, becoming one of the largest electronic scale manufactures in the world.
Lanter designs and manufactures jewelry scales, pocket scales, hanging scales, postal scales and industrial scales. Customers appreciate Lanter scale's sensitivity, reliability, accuracy, compactness, durability portability, easy operation and ability to survive in extreme climates and environments.
All over the world, customers recognize the value of Lanter's high quality and reasonable prices. Lanter scales are found in pharmaceutical, tobacco, science research, school, lab, petroleum, chemical plant, electric power, environmental protection, metals, electronics, and hairdressing industries especially in Europe, America and China.